Online galleries.
Connect a camera.
White-label, print, email, text.
The most reliable iPad app for photo booths is easy too: customize with just a few clicks.
Photos, slow-mo, boomerangs & videos with sound
Guests will love the simple interface.
Use our simple template editor to showcase your brand!
Build
Create events with custom templates and galleries.
Share
Capture, print, email, and text with our free iOS app
Grow
Use your guestlist to expand your reach & grow your business.
You've created a really great Photo Booth app, I've really enjoyed it so far & have appreciated the ability to really test it before we had to make a financial investment. With so many apps out there, I'm really glad we found yours!
Amanda L., Communications Director
I was tasked with finding photo booth software for our marketing event last week, and Booth.Events made it a huge success! I loved the ability to customize almost every detail of the experience, from the backgrounds and buttons to the emails and gallery links. Setup was simple and I didn't even need to train my team how to operate the booth - very intuitive!
S. Moran, Bloomerang
Thank you for the excellent customer service! You have gained a forever client here!
Joselyn C.
Easier to use than any other booth software
Customize every aspect of the iPad app's appearance using only your browser
Powerful features at lower cost

Comprehensive branding

Responsive support
Custom Event Experiences
From the visuals to privacy settings, you'll have the control you need to satisfy any guest.
Connect a Camera
Just connect the USB cable that came with your mirrorless or DSLR Canon, Nikon, or Sony camera to your iPad.
Watch our video
to learn how.
Made for professional boothers.
We know what it takes to run a successful photo booth business, so we've built all the tools you'll need to thrive.
Try us out with 3 free events
Photos, Slow-mo, Boomerang, Video
Guests can email, text, AirDrop, and print their creations. You can easily turn off capture types you don't want.
White-labeling
Add your logo & colors which are used in emails sent to your guests & in online galleries. Get the attention of your guests with a customized attract screen.:
Branding
Showcase your client's brand by customizing the iPad guest experience. Change everything from how the buttons look to using custom video backgrounds.
SceneSelect (Green Screen)
No backdrop? No problem. Guests can choose from a set of backgrounds you've provided after they take their photos. Works offline too!
Custom Templates
Build your templates for your events: pick the size, add backgrounds and overlays, add SceneSelect backdrops, and don't forget to showcase your brand!
Guest Management
You're in control with realtime guest data as your event unfolds, including email addresses and phone numbers entered into the app.
Custom Consent
Do you have GDPR requirements? Configure a custom consent screen for the event that meets your requirements.
Spend Less, Get More
We are confident you'll find our prices attractive when you compare other photo booth platforms with similar features.
Advanced Features Made Simple
Hundreds of Free Templates
Get started fast with our gorgeous templates, included for free!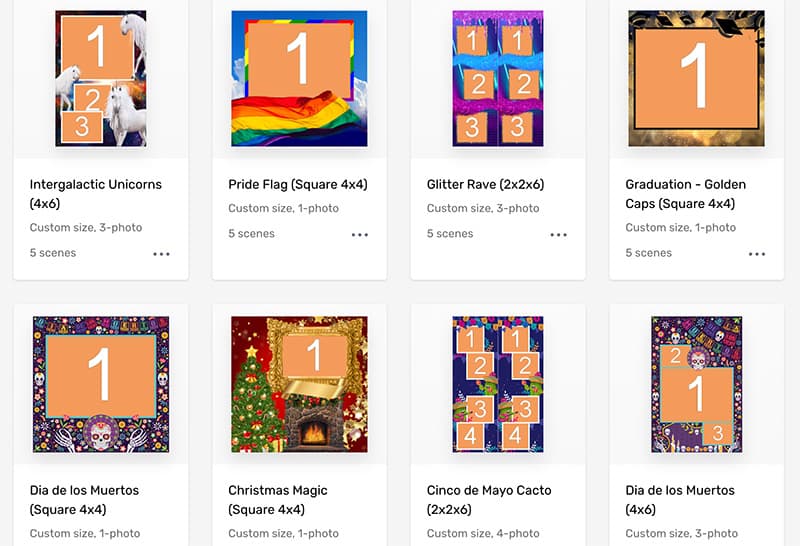 Realtime Data
Finger tired from clicking refresh? Not with us! Data loads in automatically.